2015 S550 Mustang
IRS Wheel Hop.
2015 S550 Mustang
Subframe and Differential
Deflection During Launch
before and after the
Full Tilt Boogie Racing
bushing kits were installed.
Front adjustable
sway bar end link kit.
Rear Adjustable
sway bar end link kit.
FT 560
$239.00 pair
FT 565
$149.00 pair
S550 Adjustable Vertical Link.

S550 Adjustable Toe Link.
S550 Lower Control Arm
Spherical Bearing Assembly.
S550 Knuckle
to Toe Link
Spherical Bearing Assembly.
FT 550
$375.00 pair
FT 555
$329.00 pair
FT 552
$299.00 pair
FT 548
$199.00 pair
S550 IRS Bushing
Removal/Installation
Tool Set.
This tool will remove both
the LCA and Knuckle bushings.
FT 2200
$70.00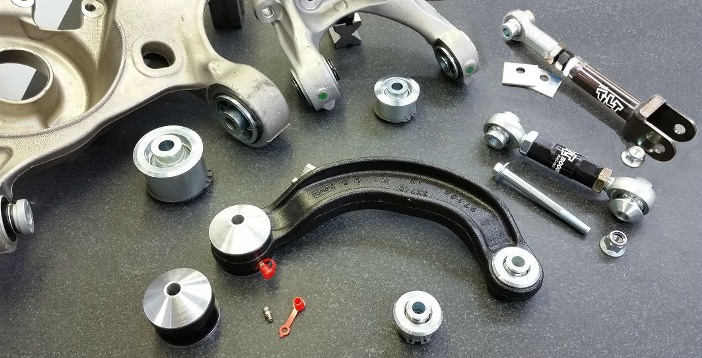 2015 S550 Mustang IRS
Lower Control Arm, Knuckle, Adjustable Vertical Link,
Adjustable Toe Link and Upper Control Arm.
S550 Subframe Bushing Kit.
S550 Rear Differential
Bushing Inserts Kit
with attaching hardware.
"NVH Disclaimer"
FT 530
$249.00
FT 535
$199.95
S550 Front Lower Control Arm
Spherical Bearing Kit
FT 556
$249.00 pair
S550 Differential Cooler Kit.
Click here for more info!
FT 570
$1,120.00
Differential breather oil catch can.


(COLOR MAY VARY)




(Click for more info.)

FT 1382
$42.00
S550 Shifter Reinforcement


Bracket Kit.


2015 thru 2017 GT's only!



Click here for a short
demonstration video.

S550 Shifter Reinforcement




Bracket Kit.




2015 thru 2017 Ecoboost only!





Click here for a short




demonstration video.

S550 Shifter Reinforcement




Bracket Kit.




2018 thru 2023 GT's only!





Click here for a short




demonstration video.

FT 590
$82.50
FT 594
$82.50
FT 596
$89.50
Ford Synthetic Rear Axle Lubricant.
75W-85
Quart
2 quarts required
(1.3 quarts actual)
FT 572
$34.95
FORD Friction Modifier for
Ford Synthetic Axle Lubricant.
Gray Ford Motorcraft sealant.
FT 1365
$10.50
TA-29
$17.00
S550 Mustang
Coolant Reservoir Cover.
FT 595
$55.00
32mm Socket for
S550 Rear Hub Nut.
36mm Socket for
S550 Front Hub Nut.
FT 3200
$15.00
FT 3600
$19.95